ACR Key RA research takeaways - 2022
November 24, 2022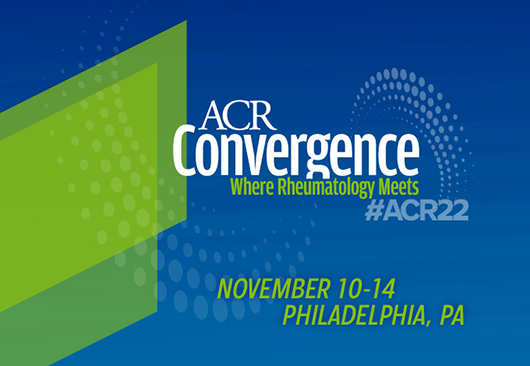 Our members attending this year's ACR Convergence conference in Philadelphia brought back some interesting insights on RA research and discussions. The American College of Rheumatology's annual scientific meeting took place from November 10 to 14 and gathered more than 9,000 in person and 4,300 virtual rheumatology professionals and patients from 104 countries. It included nearly 2,000 abstracts and expert presentations and hundreds of educational sessions for clinicians, researchers, academicians, practice managers, pediatric rheumatologists, fellows in training, advance practice nurses, physician assistants, physical or occupational therapists. This year, it also offered the Patient Perspectives Program whereby patients affected by rheumatic disease, along with a sponsoring organization such as a non-profit patient group, presented their stories.
Below are some interesting updates.
For more content, please visit the ACR Convergence website.
Patients Share the Stage at ACR
Attendees heard from Puja Khanna, MD, MPH, Associate Professor and Associate Chief of Clinical Affairs and Service Chief for Rheumatology at the University of Michigan who moderated the "Patient Perspectives" session and stated: "The patient perspective is more than a talking point in rheumatology, it's a vital part of understanding and treating autoimmune disease."
In this special session, attendees listened to two dozen patients who spoke about their personal experience of life with arthritis: their stories on everything from vaccinations during the COVID-19 pandemic, to the need to monitor one's own medical records, to finding a new rheumatologist, and much more. The session, along with a two-hour virtual poster session, represented an unprecedented platform for the ACR to provide for the patient voice - an acknowledgement of the key role patients play in arthritis research, prevention, treatment and management.
At the presentations, speakers took the audience through the patient's journey telling their personal stories about how they coped, revisited their goals and dreams, and the unforeseen gaps in their care. Their key message to the researchers and rheumatologists: When you are open to hearing the patient side, you can create that critical partnership that gives patients the best possible results. In other words, it's one thing to talk the talk; it's now time rheumatologists walk the walk. According to Dr. Khanna: "So many groups in healthcare talk about the importance of the patient perspective, but we created a platform to give patients a physical voice. This isn't an abstract distillation. This is the native voice of truth coming from the source."
Health Care Provider Training Program Improves RA Care on Navajo Nation
At a presentation, researchers described a new program that offers RA training to primary care providers in the Navajo Nation, the largest American Indian reservation in the United States.* Despite the high prevalence of RA and associated morbidity and mortality in this Indigenous community, the Navajo Nation has a single rheumatologist serving 250,000 tribal members. As a result, most RA care has shifted to primary care providers on the reservation, who do not feel confident prescribing RA medications or managing the disease.
In addition to developing the RA training program, known as the Rheumatology Access Expansion Initiative, researchers wanted to understand how the program affected health care provider knowledge and in RA diagnosis and management.
"The United States faces a critical shortage of rheumatology providers, and this deficit is expected to worsen dramatically over the next decade. In addition, racial and ethnic minorities, particularly Black, Latinx, and Indigenous people, often face longer delays in diagnosis and treatment and [have] less access to rheumatology care," explains the study's lead author, Jennifer Mandal, MD, an assistant professor at the University of California, San Francisco (UCSF).
Dr. Mandal says for many patients the physical distance from the nearest rheumatologist is a significant barrier. Meanwhile, many primary care providers have no choice but to attempt to diagnose and treat inflammatory arthritis with little or no specialist guidance.
The 12-week training program was designed by a team of rheumatologists, pharmacists, and Navajo cultural interpreters. It is based on an established educational model, which uses videoconferencing to conduct seminars with community providers. Participants included 15 physicians plus a nurse practitioner, physician assistant, and community health worker.
"We successfully designed and implemented a 12-week RA training program for Navajo Nation primary care providers. The curriculum, now in its third generation, has been very well received and has improved the health care providers' knowledge of evidence-based RA guidelines and their confidence in disease management," Dr. Mandal says.
Future plans include expanding the program to other Native American communities and potentially developing a new course on ankylosing spondylitis. The researchers also intend to look at patient outcome data, but "given the history of medical exploitation of American Indians, it is important to us to establish a solid track record of trust and reliability in the Navajo community for several years before we ask permission to review patient health records."
*Press release: Primary Care Provider Training Program Improves RA Care on Navajo Nation
New Guideline Introduces Recommendations for Integrative Approach to RA Treatment
The American College of Rheumatology (ACR) released its first guideline about an integrative approach to RA. Out of the 28 recommendations, five were about exercise, 13 about rehabilitation, three about diet, and seven about additional integrative interventions. The one "strong" recommendation states that consistent engagement in exercise is advised over no exercise. The type of exercise, frequency, intensity, and duration is not formally defined, but the guideline emphasizes "moving regularly." The specific elements of an exercise intervention should be tailored to each patient at the given time in their disease trajectory, considering their capabilities, access, and other health conditions.
"Together with pharmacologic treatment options, exercise, rehabilitation, diet, and additional integrative interventions are considered as potential adjunctive treatments for RA. Patients and clinicians often seek evidence-based insight into these treatment options," said Benjamin J. Smith, DMSc, PA-C, DFAAPA, Interim Program Director and Associate Dean at the Florida State University College of Medicine and co-principal investigator of the guideline. "Recognizing the need to support patients and clinicians when considering treatments to complement their pharmacologic regimen, the ACR developed this guideline."
Importantly, the guideline recommendations relate to RA-specific outcomes. For example, the guideline recommends adherence to a Mediterranean-style diet over no formally defined diet. The Mediterranean-style diet emphasizes the intake of vegetables, fruits, whole grains, nuts, seeds, and olive oil; moderate amounts of low-fat dairy and fish; and limits added sugars, sodium, highly processed foods, refined carbohydrates, and saturated fats.
"The conditional recommendation for adhering to a Mediterranean-style diet but not other formally defined diets, to improve RA-specific outcomes, may be surprising to some clinicians," said Bryant R. England, MD, PhD, Associate Professor of Rheumatology and Immunology at the University of Nebraska Medical Center and one of the guideline's co-principal investigators. "The Voting Panel acknowledged, however, that other health indications may exist for alternative diet and dietary supplements, which makes it crucial for clinicians and patients to engage in shared decision-making."
The Patient Panel, which provided input into the guideline recommendations, emphasized that rheumatologists are often the first contact for therapeutic decisions. It's important to patients that their rheumatologists be knowledgeable about integrative therapies and help guide patients to other members of the interprofessional care team with relevant expertise (such as occupational therapists, physical therapists, dietitians, etc.).
"Being able to include the diverse integrative interventions in the management of persons with RA throughout their disease course, as an interdisciplinary team, is essential. This guideline highlights the vital role expert members of interprofessional healthcare teams serve in providing optimal care to people with RA," said Dr. Smith.
*Press release: 2022 American College of Rheumatology (ACR) Guideline for Exercise, Rehabilitation, Diet, and Additional Integrative Interventions for Rheumatoid Arthritis
Holding Methotrexate for One Week after Flue Vaccine May Be as Effective as a Two-Week Hold
Methotrexate (MTX) remains a first-line therapy for rheumatoid arthritis due to its efficacy, favorable safety profile and cost. Yet it significantly reduces response to flu vaccines. Previous research has showed that withholding MTX for two weeks after patients received the seasonal flu vaccine improved immunogenicity. New research presented at the ACR annual meeting looked at whether a one-week hold of MTX was equally effective in terms of immediate and long-term vaccine response.
Jin Kyun Park, MD, Chief of Rheumatology at Seoul National University Hospital, associate professor at Seoul National University College of Medicine, and the study's lead author, says the main reason for undertaking the trial was to determine whether the time without MTX could be minimized to reduce the likelihood of disease flares.
Dr. Park's team found that discontinuing methotrexate for one week after seasonal influenza vaccination provided the same seroprotection as a two-week discontinuation period in patients with rheumatoid arthritis.*
"Patients and physicians alike do not often know what to do with methotrexate when a vaccination, including the annual flu vaccine or novel COVID-19 vaccines, is required. It was relieving to find out that skipping methotrexate for one week is as effective as skipping it for two weeks to improve vaccine response with no increase in disease flare risk," Dr. Park says. "But it is not clear yet whether skipping methotrexate for one week improves response to other vaccines."
The next step, Dr. Park says, is to see if this approach can be applied to other DMARDs and vaccines.
*Press release: Immediate and Long-term Effects of the MTX Discontinuation for 1 vs. 2 Weeks on Vaccine Response to Seasonal Influenza Vaccine: A Non-inferiority Randomized Controlled Trial
Opioids Double Risk of Venous Thromboembolism in RA Patients
Pain management is a priority for most patients living with RA. Even with well-controlled disease, around 60% of patients continue to experience pain, with few safe medication treatment options, including nonsteroidal anti-inflammatory drugs (NSAIDs) and opioids, to help manage it. One concern with NSAIDs is the increased risk of major cardiovascular events, which is already present in patients with RA. And while many potential harms of opioids — addiction, overdose, and death — are well known, the risk of major adverse cardiovascular events is not as clear.
New research presented at ACR Convergence 2022 looked at this cardiovascular risk in RA patients taking opioids compared to NSAIDs and found that adult RA patients starting opioids had twice the risk of venous thromboembolism (VTE) compared to patients starting (NSAIDs).* VTE is a serious, but preventable, condition that occurs when a blood clot forms in a vein.
The study's lead author, Gulsen Ozen, MD, a rheumatology fellow at University of Nebraska Medical Center commented: "One of the arguments for choosing opioids over NSAIDs is less impact of opioids on cardiovascular disease. However, no data supports that opioids have a safer profile than NSAIDs in addition to their other risks. Therefore, we wanted to investigate cardiovascular risks associated with opioids compared to NSAIDs to show if they are as safe as perceived."
The study found similar cardiovascular disease risk and somewhat increased mortality risk with opioids compared to NSAIDs. However, researchers also found a two-fold increased risk of VTE in patients taking opioids.
Dr. Ozen notes that opioid prescribing in the rheumatology community decreased before the COVID-19 pandemic but has since ticked up and remains a problem for many patients with rheumatic diseases.
"Addressing pain in patients with rheumatoid arthritis is challenging as it is not always dependent on disease activity," Dr. Ozen said. "Although we don't have direct evidence for patients with rheumatoid arthritis, we know from patients with osteoarthritis that chronic opioid use can intensify pain without improvement of function. Our study suggests that opioids can cause significant cardiovascular morbidity and even death in patients with rheumatoid arthritis. We hope our findings can decrease opioid prescriptions for pain in patients with inflammatory rheumatic diseases. We have to remember that pain in inflammatory rheumatic diseases is multifactorial, and we should utilize non-pharmacological methods more often in this patient population."
*Press release: Major Adverse Cardiovascular Events and Mortality with Opioids versus NSAIDs Initiation in Patients with Rheumatoid Arthritis
---
Croatia's and Israel's RA Dashboards are now available
November 8, 2022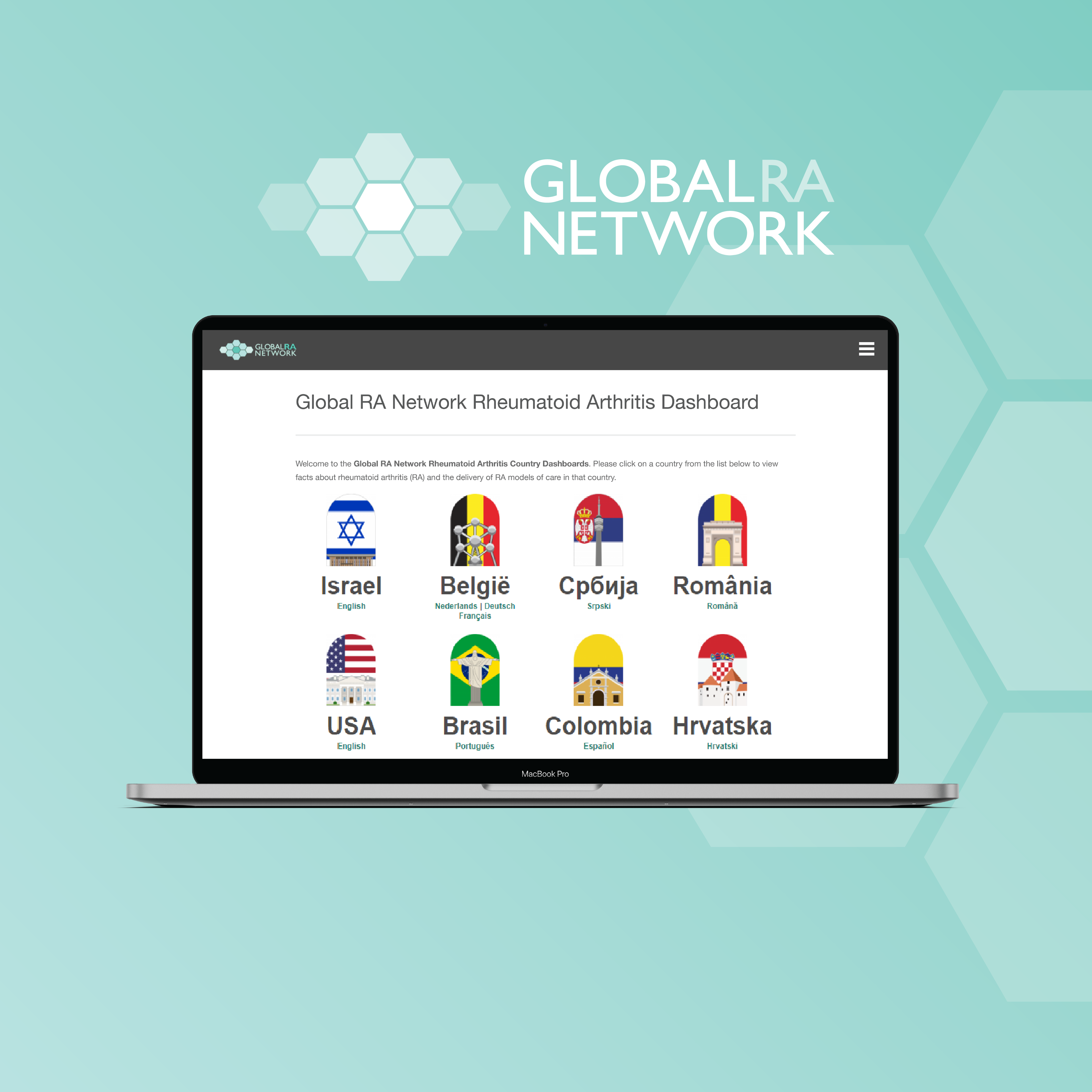 Croatia's and Israel's Rheumatoid Arthritis Dashboards (RA Dashboard) have recently been published on the Global RA Network website thanks to the collective efforts of the Network's secretariat and member organizations Association Remisija in Croatia and Mifrakim Tz'eirm in Israel. These new issues bring the total number of countries with the online tool to thirteen.
The RA dashboard provides data in an easy-to-use format to help patients and other stakeholders get a better understanding of the status of rheumatoid arthritis care and gaps in models of care in Network member countries in Europe and the Americas. It also allows to monitor and compare care progress between different countries. It is a powerful tool to support advocacy efforts on models of care in these regions.
Visit the RA Dashboard or Advocacy sections of the Global RA Network website to access RA Dashboards and come back regularly to see updates or new country dashboards.
---
Poster by Israeli association for RMDs patients Mifrakim Tze'irim (עמותת מִפרקים צעירים)
September 28, 2022

The Israeli association for RMDs patients Mifrakim Tze'irim developed the IN MY HANDS arthritis self-management course for members of their association in collaboration with the Association of Arthritis and Rheumatism – Malta (ARAM) and Malta's Health Ministry, assisted by a grant from EULAR PARE (People with Arthritis / Rheumatism across Europe). A pilot course was successfully held in 2019 and as of June 2022 over 50 members completed the course.
This image presents the syllabus of the course. Please click here to access the poster.
---