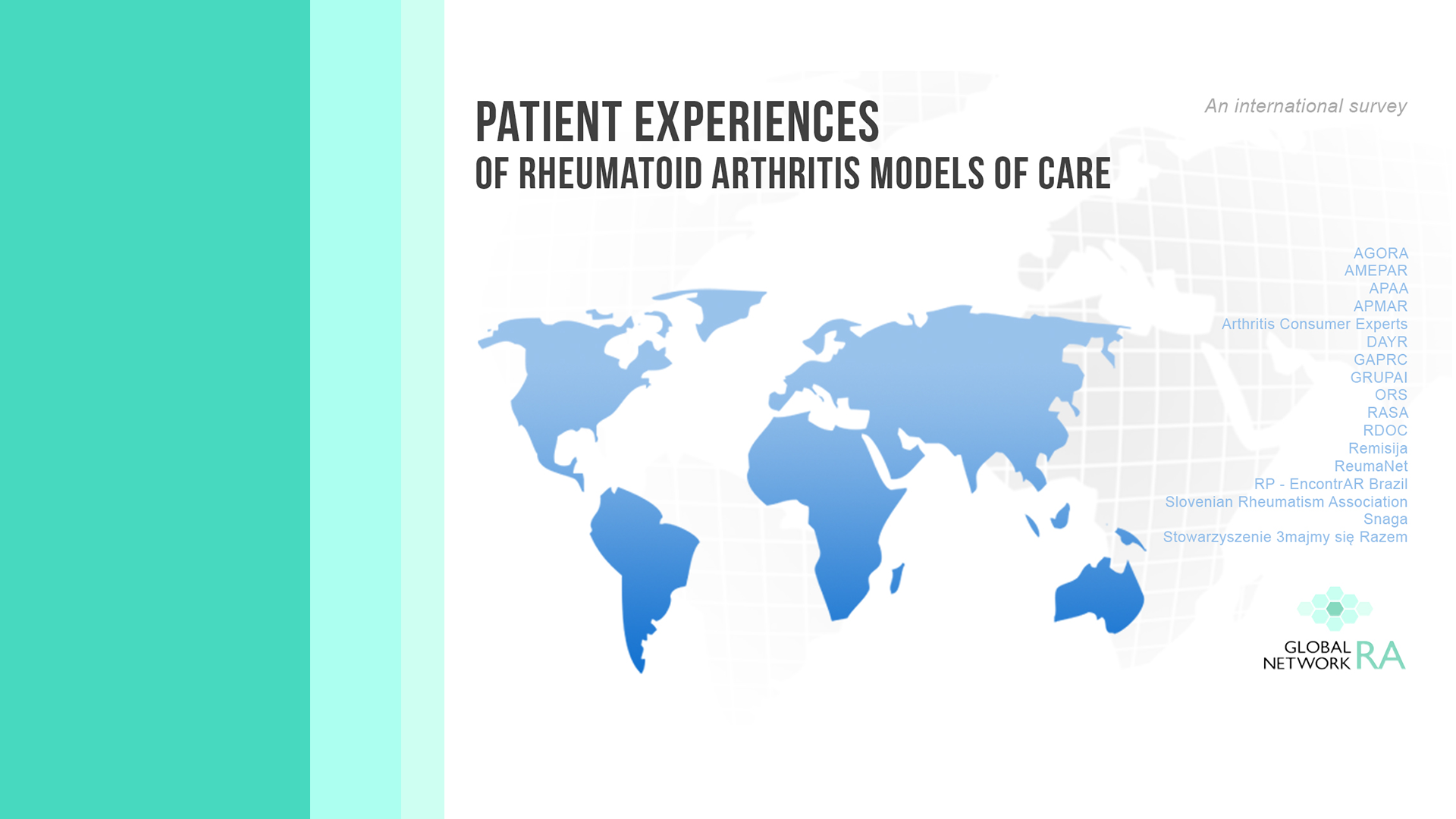 Global RA Network Survey
The Global RA Network developed a survey that was launched in 2017 called: "Patient experiences of rheumatoid arthritis models of care: An international survey."
The first crowd-sourced research of its kind designed by RA patients, for patients, to better learn what their care experiences are like in their country, the global survey fielded responses from 2,690 respondents from 14 countries in Europe, the Middle East, and North and South America. The survey highlights self-reported gaps and delays in all five key elements of a standardized RA models of care, including significant delays to diagnosis and specialist access in the countries surveyed, patients not meeting their arthritis specialist often enough, and the need for education/information to increase patients' confidence to describe RA and improve their ability to care for themselves.
The Global RA Network presented the results of a global survey - "Patient Experiences of Rheumatoid Arthritis Models of Care: An International Survey"[1] - investigating patient-reported experiences of rheumatoid arthritis models of care at the American College of Rheumatology's (ACR)/Association of Rheumatology Health Professionals (ARHP) Annual Meeting.
Speaking at the ACR meeting on behalf of the Global RA Network, Cheryl Koehn, lead author of the abstract and Founder and President of Arthritis Consumer Experts, said that the survey results are troubling: "As soon as RA starts, the joints are getting damaged. That's why it's so important to aim for diagnosis within six weeks of the first symptoms. In British Colombia (Canada), we've actually made a rule that rheumatologists will see any patient with suspected RA within two weeks – that's how convinced we are that delay is bad for patients. And it's not just about mobility; it's about years of life too. A diagnosis of RA is associated with an average reduction in life expectancy of 10 years – early diagnosis and treatment can give some, if not all, of those years back."
Key survey takeaways:
On average, RA patients surveyed waited nearly two years (22 months) for an accurate diagnosis, representing a significant delay in starting treatment for these patients. This is despite the fact that current guidelines state that anyone presenting arthritis symptoms should be referred to, and seen by, a rheumatologist within six weeks.[2]
In RA, the immune system attacks the cells that line the joints, causing them to become chronically inflamed, painful and swollen. Timely diagnosis, treatment and on-going management by a rheumatologist is needed to optimise treatment, manage flare-ups and limit long-term joint damage so that people with RA can maintain their quality of life and stay active and in work.
Survey results revealed that 51% had to wait longer than three months for their first rheumatologist appointment and 33% of patients did not see their rheumatologist as frequently as recommended by guidelines.
The survey also revealed gaps in patient awareness of disease and treatment. 49% of those surveyed did not know if they were taking a biologic treatment and 39% said they did not feel confident describing RA. Evidence shows that a better understanding of RA and treatment options can help patients to interact with rheumatologists more effectively and ultimately improve disease management.
[1] Koehn CL, Lendvoy K, Ma Y, Li L, Hoens A, Souveton M, Esdaile JM. Patient Experiences of Rheumatoid Arthritis Models of Care: An International Survey [abstract]. Arthritis Rheumatol. 2017; 69 (suppl. 10).
[2] Combe B, Landewe R, Daien CI, et al. 2016 update of the EULAR recommendations for the management of early arthritis. Annals of the Rheumatic Diseases. Vol. 76, No.6, June 2017, pp 948-959
http://ard.bmj.com/content/76/6/948
Methodology at a Glance
Online survey
Kantar Health developed a dedicated website for the survey in several languages (with a unique link for all respondents)
PAGs shared the link with their memberships through their websites and social media channels.
Started on March 15, 2017 and finished on May 3, 2017
Patients accessed and completed the survey on their computer, laptop, tablet or smartphone.
Countries with more than 30 respondents were included in the data analysis
Prevalence figures for RA and the population size for each country were used get an estimate of the number of RA patients in each country
The data was weighted, taking these estimated numbers for each country into account
Note: Kantar Health, a global market research company, hosted the survey. Funding support for the survey was provided by F. Hoffman-La Roche Ltd.