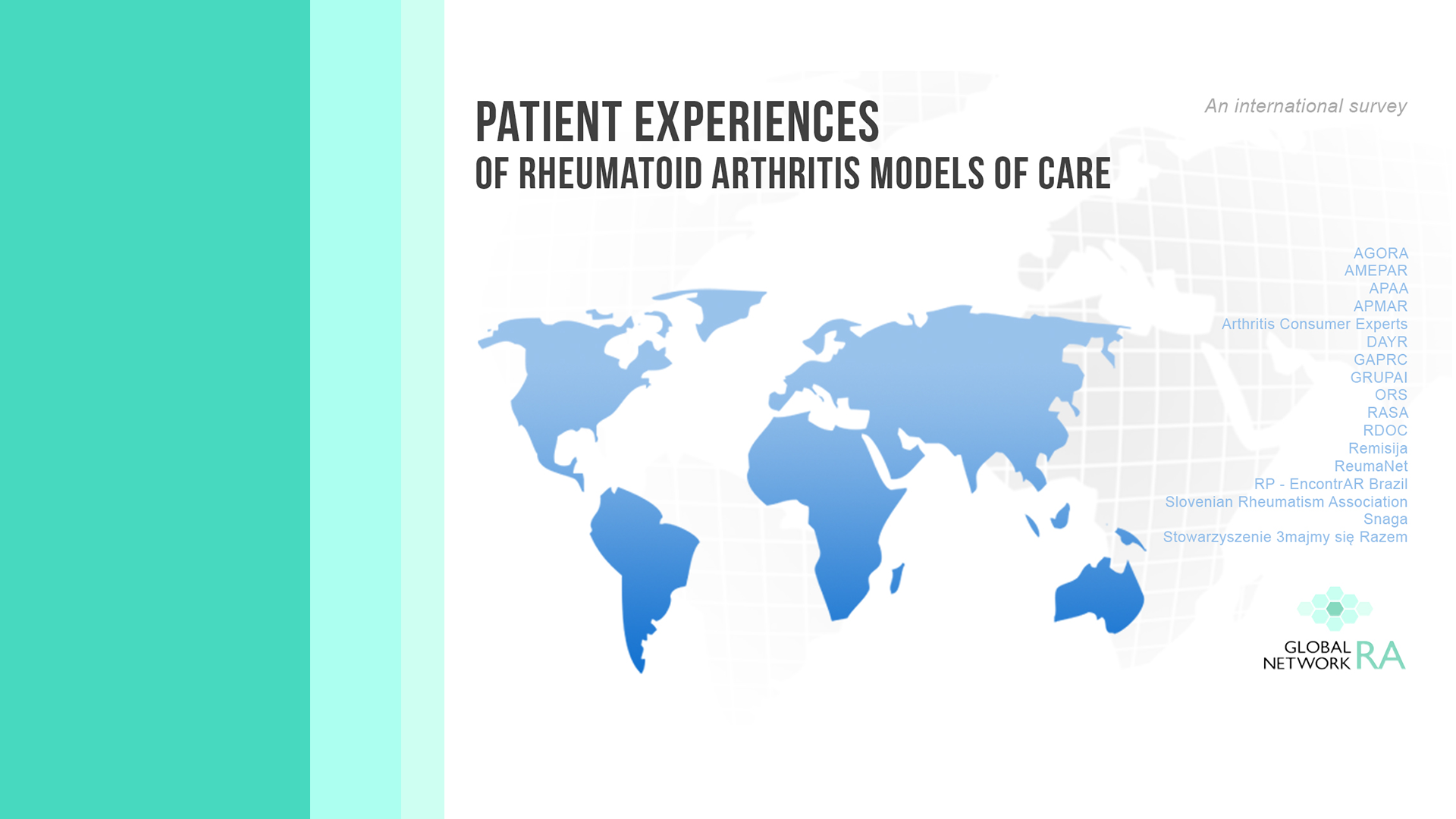 Global RA Network Survey
The Global RA Network developed a survey that was launched in 2017 called: "Patient experiences of rheumatoid arthritis models of care: An international survey."* The Survey aimed to identify how, from the patient experience and perspective, current models of care for rheumatoid arthritis compare between countries. The results of this survey are the first crowd-sourced research of its kind designed by patients, for patients, to better learn what their care experiences are like in the their country.
The Global RA Network Survey results will be presented at the 2017 ACR/ARHP Annual Meeting (November 3 – November 8).
The results of this survey will help build collaboration between the RA organizations involved in the "Global RA Network. It is our hope that by analyzing and interpreting the survey results for each participating country, the Global RA Network can develop education and information initiatives to improve RA patients' understanding about the kind and quality of care they should be receiving so as to enable the best treatment outcomes possible. In doing so, we can continue working towards common purposes on behalf of people with RA around the world and sustain the Global RA Network.
Background and aim

A questionnaire of rheumatoid arthritis (RA) patients was carried out on behalf of 18 patient advocacy groups (PAGs) to gather insights on RA models of care from the patient perspective, as well as probing their knowledge about the disease and available treatments

Participation

2,690 respondents from 14 countries in Europe, the Middle East, and North and South America
Methodology at a Glance
Online survey
Kantar Health developed a dedicated website for the survey in several languages (with a unique link for all respondents)
PAGs shared the link with their memberships through their websites and social media channels.
Started on March 15, 2017 and finished on May 3, 2017
Patients accessed and completed the survey on their computer, laptop, tablet or smartphone.
Countries with more than 30 respondents were included in the data analysis
Prevalence figures for RA and the population size for each country were used get an estimate of the number of RA patients in each country
The data was weighted, taking these estimated numbers for each country into account
Note: Kantar Health, a global market research company, hosted the survey. Funding support for the survey was provided by F. Hoffman-La Roche Ltd.