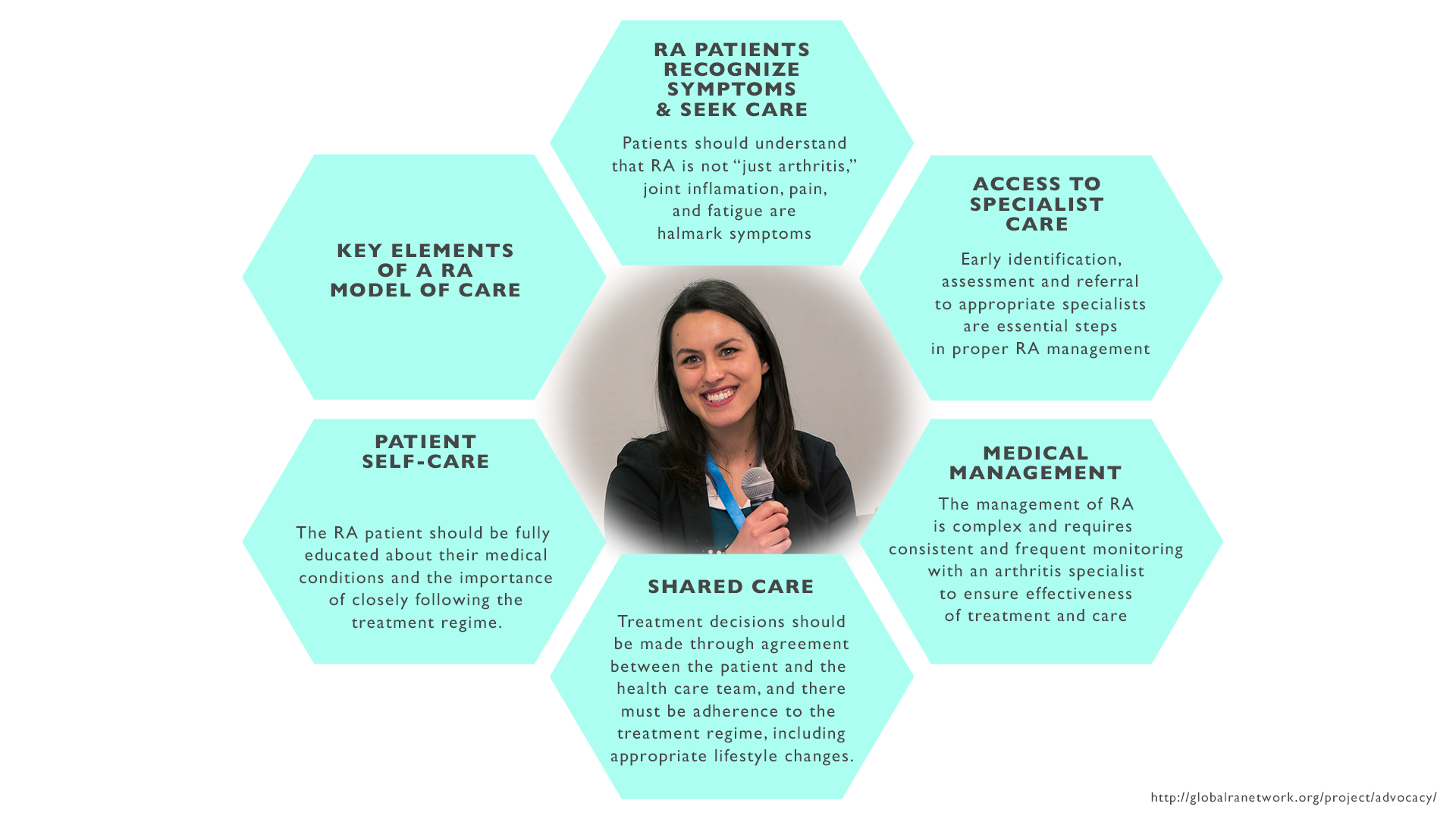 The Burden of RA
Rheumatoid arthritis (RA) is the most common inflammatory joint disease. While it affects all age groups, more than one half of all new cases occur between the ages of 40 and 70 years. RA affects an estimated 1 out of 100 people worldwide. Within ten years of the onset of the disease, up to 50% of people living with RA are work disabled if untreated. For those living with RA, related inflammation in the arteries result in an increased risk of mortality.
The increase in the number of people living with RA and the growing economic burden of RA in countries around the world are expected to have significant consequences in terms of health care costs and loss of productivity today and over the next 30 years. Without a doubt, RA's greatest burden is on the personal lives of those living with the disease and on the lives of their families.
Today, effective RA treatments exist, which can change these outcomes. The critical factor to optimize the health of patients with RA is timely and ongoing access to specialty care, ideally delivered by a highly integrated, collaborative team of health care professionals knowledgeable in the diagnosis and management of RA and patient understanding of RA and self-care strategies.
Models of Care
A model of care is the way specific health care services are provided to patients and is shaped by research-based practice and defined standards. A model of care includes the early identification of disease, access to a diagnosis by appropriate health professionals, medical disease treatment and management, on-going shared care and patient self-care.

RA Models of Care Fact Sheet
Current RA models of care need to improve
It is estimated that one per cent of the world population live with rheumatoid arthritis (RA) and is a leading cause of disability.
The current pattern of health care delivery to those living with RA is not prepared to deal with the economic burden of RA that is expected to double within the next 30 years. The number of rheumatologists is already insufficient to provide timely care.
Number of patients with RA is going to double as a result of:
The aging baby boom generation
Increased recognition of RA by healthcare professionals
Slightly higher incidence of RA in people over 70 years old
Implementing best practices in RA Models of Care around the world takes time, thus patients may report being treated differently from country to country, even region to region with in countries, resulting in inconsistent care.
RA models of Care "live" within a country's health care environment and are shaped around a number of different factors:
Guidelines from a patient's country or from global organizations such as the European League Against Rheumatism set out things like the tests doctors should use to confirm whether a person has RA, what specialists they should see, who should get which treatments, when and how.
While rheumatologists work together around the world to determine and develop guidelines for standardized models of care, little, if any, work has been done to research into the RA patient experience of their journey through their country's RA model of care, including:
All aspects of care and support needed by RA patients
What RA patients should know about their own care and self-care
The importance of more subjective patient-reported outcome measures of treatment
Key Elements of RA models of Care
Key elements of a RA model of care must address the complex, life-long issues facing patients and include all points of contact across the health care system.
It's what take place during healthcare visits between the patient and healthcare professional that matters most.
The Global RA Network's definition of a RA model of care includes five key elements during the patient's disease journey:
1.  RA Patients recognize symptoms and seek care – Patients must understand that this is not "just arthritis."
2.  Access to specialist care – Early identification, assessment and referral to appropriate specialists are essential steps in proper RA management.
3.  Medical management – The management of RA is complex and requires constant monitoring with a specialist to ensure effectiveness.
4.  Shared care – Treatment decisions must be made through agreement between the patient and the health care team, and there must be adherence to the treatment regime, including appropriate lifestyle changes.
5.  RA patient self-care – The patient must be fully educated about their medical conditions and the importance of adherence to the treatment regime.
Ensuring all five elements are part of a health care system, will create a pathway of care, from prevention, diagnosis, treatment, medical management and self-care, to ensure the RA patient has access to the right service and care provider, at the right time in the care pathway.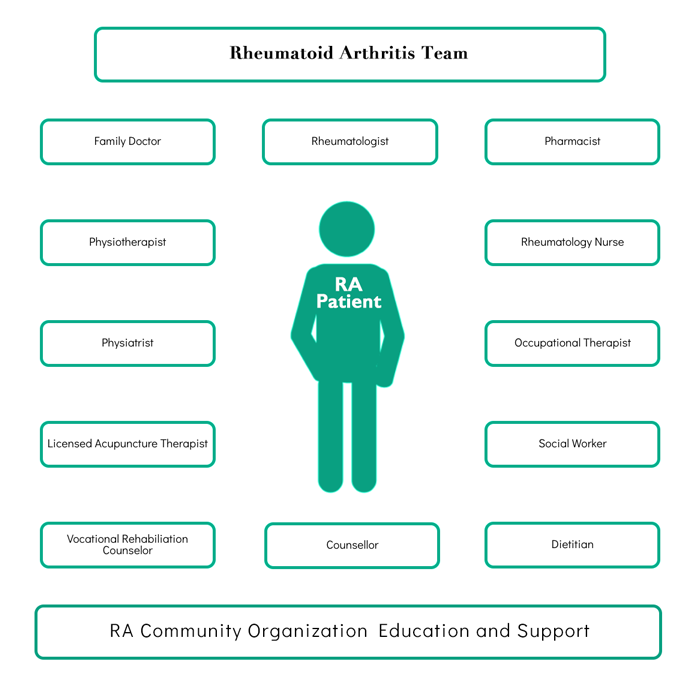 You and Your RA Health Care Team
RA patients require a range of support from a diverse team of healthcare professionals and educators.
You are the most important member of your team and play an important role on it.
Learn about your arthritis and the many ways it can be managed
Work with your team to find ways of managing your arthritis that work best for you
Learn about the services that can help
Be as open as possible with your health concerns and goals
You know your body best and what does – or does not -feel right for you. Share this information with your health care team