ACR Key RA research takeaways – 2021
ACR Key RA research takeaways – 2021
December 13, 2021
This year's American College of Rheumatology's annual scientific meeting, which took place November 1 to 10, included more than 2,000 abstracts and expert presentations from over 320 clinicians, researchers, and health experts. More than 14,000 rheumatology professionals and patients from 110+ countries attended the virtual conference online.
Here are some key RA research updates: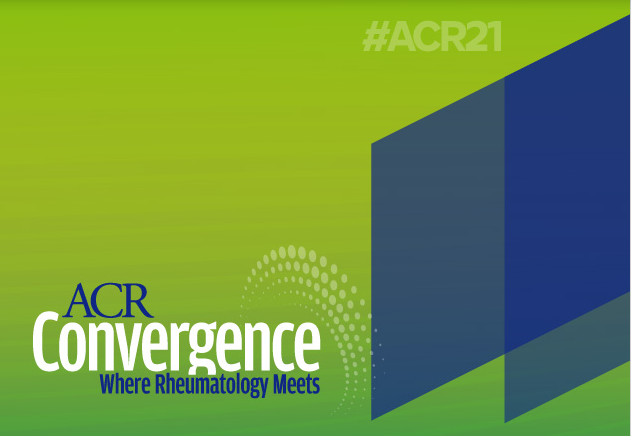 Rituximab increased odds of COVID-19 hospitalization vs. DMARDs for RA patients
Patient use of rituximab compared with conventional synthetic disease-modifying antirheumatic drugs was associated with worse COVID-19 outcomes in patients with rheumatoid arthritis (RA), according to a presenter at ACR Convergence 2021.
"The COVID-19 pandemic led to several questions regarding the safety of DMARDs that patients with rheumatic diseases use for their management," said Namrata Singh, MD, MSCIFACP, assistant professor at the University of Washington.
Among different DMARDs, rituximab (Rituxan, Genentech) has a unique mechanism of action with depletion of B cells that can last for several months. Dr. Singh and his research team considered this in their study with the aim to shed light on the comparative safety of rituximab compared with other DMARDs in patients with RA.
"Interestingly, in our study, we did not find an association between rituximab use and mortality from COVID-19," explained Singh. "This contrasts with a few other studies that did observe an association. We speculate that this could be because prior studies did not adequately adjust for COVID-19 treatments, especially those used during COVID-19 hospitalization, as we did in our analyses."
No DMARD use was also found to be associated with significantly higher odds of hospitalization in patients diagnosed with COVID-19, according to the study.
"Findings from our study can guide patients, providers and policymakers regarding the increased risks associated with rituximab use during the COVID-19 pandemic," the researchers said in the presentation.
The data also highlight the need for continued close monitoring of patients on rituximab, the need for COVID-19 vaccination and boosters, and continuation of the other preventive measures, including masking, social distancing and avoiding unnecessary travel.
Black and Hispanic RA patients have higher disease activity than white patients
New research presented at the ACR annual meeting found that racial and ethnic disparities for disease activity persist in people with RA. Black and Hispanic RA patients often had higher disease activity and lower self-reported functional status (basic activities of daily living, e.g., feeding, bathing, dressing personal hygiene and walking) when compared with white patients.
Research has shown that there are differences in disease activity and clinical outcomes for people with RA across different racial and ethnic groups in the United States. These disparities exist across the healthcare system, and these inequities impact both patient experience as well as patient clinical outcomes. However, this has not been studied as extensively in RA as in other disease areas, so there is still a need to understand the magnitude of health disparities in RA. The authors conducted this new study to learn more about these disparities and how they may have changed over time.
According to the presenter of the study, Jacqueline O'Brien, ScD, a clinical epidemiologist:
"The study tells us that, in a population of people who have access to a clinic, have access to treatment, that we're seeing a lot of differences between the racial and ethnic groups. I think the findings can serve as a reminder to clinicians that it's important to be mindful that patients are coming from diverse racial and ethnic backgrounds. They may have different needs to achieve similar levels of success with advanced therapy."
There are many factors that contribute to health inequality, including access to care, socioeconomic status, systemic racism and other social determinants of health (non-medical factors that influence health outcomes).
Dr. O'Brien added. "Certainly, more research is needed to understand how these factors interact and result in different clinical outcomes for racial and ethnic groups. We need to identify where the disparities exist, so that we can better target therapy and improve care, for all patients."
A key long-term goal is really recruiting diverse populations into future research. RA research has focused predominantly on white populations, and we need more information on the epidemiology of RA (determinants, distribution of diseases), the disease course, the patient reported outcomes in patients of different racial and ethnic backgrounds, and ultimately a complex multifactor solution is going to be needed to address health disparities in RA."
Going deeper
The underrepresentation of Black, Indigenous People and People of Colour (BIPOC) patients in RA research is a very important finding in and of itself. It suggests that racial minorities are generally being excluded from networks in the arthritis patient community. This means the voices and experiences of BIPOC people living with RA are largely going unheard. This is a particularly significant problem because BIPOC people are more likely to experience negative health outcomes (due to systemic racism) in RA.
A May 2021 study published in Arthritis Care & Research examined 65 ACR and EULAR practice guidelines and recommendations and found a troubling lack of clarity regarding race information, an "urgent need" for standardized race reporting and research with insufficient racial diversity that was used to make race-based recommendations for Black patients.
Higher risk of breakthrough COVID-19 infection in RA, gout, vasculitis patients
Patients with rheumatoid arthritis, gout, vasculitis and those with multiple autoimmune of inflammatory arthritis diseases were at greatest risk for breakthrough COVID-19 infection, despite full or partial vaccination, compared to those without autoimmune disease.
"People with rheumatoid arthritis, gout, vasculitis and multiple autoimmune diseases were significantly more likely to have breakthrough infections compared to people without immunosuppressed conditions," said Jasvinder A. Singh, MD, MPH, of the University of Alabama at Birmingham, in his presentation at ACR Convergence 2021.
Dr. Sing concluded: "This data, we believe, is important information to guide patients, providers and policymakers. Although more research is needed, these findings support the use of a third vaccination in immunosuppressed patients."
Vitamin D, omega-3 supplements reduced risk for autoimmune disease, including RA
The use of vitamin D3 or omega-3 fatty acid supplements over a 5-year period may reduce the incidence* of autoimmune disease (including RA) in older adults by 25% to 30%, according to data presented at ACR Convergence 2021.
*(Incidence is a measure of disease that allows us to determine a person's probability of being diagnosed with a disease during a given period of time. Therefore, incidence is the number of newly diagnosed cases of a disease.)
"In past studies, inflammatory bowel disease, multiple sclerosis and type 2 diabetes have been shown to be more prevalent at northern latitudes, where circulating vitamin D levels are lower," Karen Costenbader, MD, MPH, director of the Lupus Program at Brigham and Women's Hospital, told attendees at the ACR meeting. "Both vitamin D and high residential UV exposure were associated with a decreased risk for rheumatoid arthritis among women in the Nurses' Health Study in our past work."
However, to date, no prospective randomized trials have tested the effects of vitamin D or omega-3 fatty acid supplementation on the incidence of autoimmune diseases over time, Costenbader noted.
"The reduced incidence of RA is very important for rheumatology," Costenbader said. "The more pronounced effect after 2 to 3 years of use with vitamin D makes sense biologically and supports long-term use. There is an ongoing extension study confirming incident cases in further follow-up. The clinical importance of these results is very high given that these are well-tolerated, non-toxic supplements, and that there are no other known effective therapies to reduce incidence for autoimmune diseases."
Glucocorticoid use in RA patients increases cardiovascular risk
According to data presented at ACR Convergence 2021, 30 days of glucocorticoid use in 6 months for RA patients is associated with 15% increased odds of major adverse cardiac events (MACE) in the next 6 months. Glucocorticoids medications are man-made versions of glucocorticoids, which are steroids that occur naturally in your body, and are very effective at reducing inflammation and suppressing the immune system.
"Up to half of RA patients in the United States use long-term glucocorticoids, despite previous work suggesting they increase major cardiovascular events," said Beth Wallace, MD, MS, of the University of Michigan Medicine and the U.S. Veterans Affairs Ann Arbor Healthcare System.
"Earlier research suggests long-term glucocorticoid use is common among RA patients with traditional MACE risk factors, like hyperlipidemia, diabetes, hypertension and smoking, but we know little about the incremental effect of ongoing glucocorticoid use on MACE risk in RA, particularly as traditionally predisposed comorbidities might confound its assessment."
Dr. Wallace added: "For example, RA patients who take steroids may be more likely to develop diabetes or hypertension, which, if not adjusted for, could confound an association between glucocorticoid exposure and MACE."
The study results saw that just 30 days of glucocorticoid use in a 6-month period, even if discontinuous, is associated with a 15% increase in odds of MACE over the following 6-month period. This association appears not to be related to a patient's baseline MACE risk, or to biologic and methotrexate use.
---